FULL BIOGRAPHY...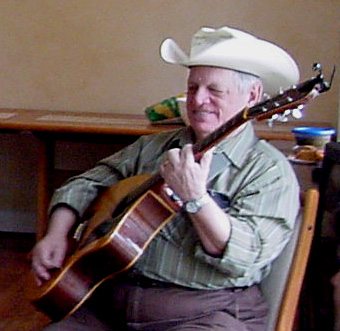 When I started writing this it was intended to be brief, just the highlights of my career; the kind of thing you'd expect to find on a website.
But then something happened.
Y'see, I'm a writer, and when writers write, we tend to write...and write...and write... as long as there's anything to write about...and, well, you can see where this is going....
If you've ever been in a conversation with me, you know that if you get me to talking it's awful hard to shut me down again, and by the time you finally get away from me you've probably learned a whole lot more than you ever thought you really needed to know.
That's because I love to talk as much as I love to write, and I'll talk...and talk...and, well, you know where this is going, too...
Well, anyway, I sat down to write a short bio for a website, and things kinda got a little outta hand, and, well, you can see where this is going, too...
But, on the other hand, you probably got here because you had some time to spend just sitting in front of a computer, browsing around, and I'd love to have you spend it here with me. That's 'cause I think that the more you know about me, the better you'll understand where my songs are coming from, and that's kinda important to me.
So now that you have an idea where this is going, how about going there with me???...C'mon...I'll show you the way......
---
I was born on April 14th, 1938 in Brooklyn, New York, and lived there until I graduated from Brooklyn Technical High School in June of 1956.
It may seem odd that someone who's spent most of his life in 'Country' music would have started out in one of the major cities of the world, but a lot of my growing up was done in the country. Some of my earliest memories are of a place in Sag Harbor, on Long Island, that belonged to three of my aunts. I spent my sixth and seventh summers at an uncle's place near Palenville, in the Catskill Mountains, and then there were four whole summers at a camp on Long Lake, in the Adirondack Mountains. When I was eleven my parents bought property at Lake Shawnee, in New Jersey, and that was our summer home all through my teen-age years. It was a wonderful place for a teenager to grow up in. Most of the land was still wild forest, the water was clean and clear, and the swimming and fishing were great. I spent a lot of time roaming through the woods.
There was also a family farm that belonged to some relatives on my paternal Grandmother's side of the family, and while I can't honestly claim to have grown up on a farm I spent a lot of weekends there, and a couple of spring vacations. I've never milked a cow, plowed a field, or slaughtered a hog, but I've seen all of those things done. This is what my song "ROGER'S FARM" is all about.
I also spent the summer working at a dude ranch when I was seventeen, and I know what it's like to load a truck with hay bales and then load them into the loft of a barn.
The end result of all of this is that I'm equally at home in both the city and the country, and equally out-of-place; when I'm in the city it seems like I'm a country boy, and when I'm in the country I'm a city-slicker.
I started taking piano lessons when I was ten. I got my first guitar at thirteen, and the piano lessons ended soon after that. Within the next couple of years I'd also gotten a 5-string banjo, a fiddle, and a mandolin. The fiddle kind of fell by the wayside, but I can play the mandolin passably well, and can play a few tunes on the banjo, although I won't claim to really be a banjo player. The guitar has always been my main instrument.
The 'fifties' were, literally, my teenage years. I turned thirteen in 1951, and passed into my twenties in 1958. The country had survived both the Depression and World War II and, except for the nonsense in Korea, it was a time of peace and prosperity. They really were 'Happy Days'.
At that time television was just starting to happen, and radio stations still had mixed formats; a single station would play country, jazz, pop, polka, talk, and sports. Announcers and disk jockeys were all allowed to develop their own unique personalities, and the disk jockeys played whatever they wanted to. It was common to hear bluegrass, western swing, and honky-tonk all on the same show.
Surprisingly, there was quite a bit of country music being played in the New York area. There was a show called 'The Hometown Frolics' on WAAT, in Newark, N.J. every morning from 7:45 until 9 am, and from 1 pm until 3 pm, seven days a week. Don Larkin was the D.J. during the week, and Lyle Reid did Saturdays and Sundays. The Sunday morning show was two whole hours and started at 9 or 10 instead of 7:45. Sometimes the show would be on in the evenings, too, as 'The Night Time Frolic'.
Rosalie Allen had a show on WOV in New York from 10 pm until midnight, five nights a week. She was a yodeler who was a major star in the forties and fifties, and a contemporary of the great Elton Britt. They both recorded for RCA Victor, and did at least one album together.
The WSM signal didn't get into New York, but the Grand Ole Opry had a half-hour segment on the NBC network, sponsored by Prince Albert Tobacco, and that's how I first learned about people like Roy Acuff, Minnie Pearl, and Red Foley.
At night a good radio could pick up stations from several states away, and the one that came in best was WWVA in Wheeling, West Virginia. I listened to the 'World's Original Jamboree" on Saturday nights, and whenever I could get away with listening past midnight, I'd listen to Lee Moore, The Coffee Drinkin' Nighthawk, who was perhaps the greatest all-night disk jockey that country music has ever had. He was great; besides playing records, he'd have his guitar in the studio, and he'd play live, and recite poetry, and rattle a spoon around in his coffee cup. I remember the commercials, too; have you ever heard of buying a gravestone by mail-order? The truck drivers loved him, and I've often wondered if he ever knew how much of a legend he was. I never met him face to face, but we exchanged a couple of letters long after he'd retired, and he sat down with his guitar and a tape recorder and made me a personalized tape just like he was doing his radio show. It's one of my most precious possessions.
There were a lot of other Saturday-night barndance shows in those days. The ones I remember are the Louisiana Hayride from Shreveport, The Old Dominion Barndance from Richmond, The Big D Jamboree from Dallas, the Midwestern Hayride from Cincinnati, and The Renfro Valley Barndance from Renfro Valley, Kentucky. The Midwestern Hayride was also on television, and the Ozark Jubilee from Springfield, Missouri was on TV for awhile, too.
While I was still in high school I made my first radio appearance on "The Alma John Show" over WWRL, Woodside, Queens, N.Y. in 1954. The show was set up my friend Bill Knowlton, who also invited Rosalie Allen to come and be interviewed. She then invited Bill and I to come and be interviewed on her show... tall cotton for a sixteen year old boy to be walking around in.
My first TV appearances were on a Saturday-morning children's show called "Paul Tripp's Carousel" on WCBS-TV, New York in May, 1955, and again in August of the same year. Bill Knowlton was involved in that, too. He and I and another friend named Al Riedel had formed a trio and were doing Red Cross shows with a troupe called "The Empire Entertainers" at hospitals and military bases in New York and New Jersey.
In August of 1955 Bill and Al and I rode for 30 hours on a Greyhound bus from New York to Nashville to see the Grand Ole Opry in the Ryman Auditorium. I still have the program from that show; the date was August 27, 1955.
Bill Knowlton is now a bluegrass disk jockey and promoter, in upstate New York. I'm proud to say that he's also still a friend after all these years.
After I graduated from high school in June of 1956 my family left Brooklyn and moved to our summer home in New Jersey. A couple of weeks later I found a job playing guitar with a band in a local honky-tonk, and a few weeks after that, in August, I became a member of the 'John Yanish Western Rancho Show", which was broadcast live every Saturday afternoon over WNNJ, Newton, N.J. John Yanish was an insurance broker who also did a Polka D.J. show on WNNJ, and promoted concerts featuring acts from the Wheeling Jamboree. Those of us who were on his radio show were the opening acts, so I got to open for, and meet, such legends as Rusty and Doug Kershaw, and Wilma Lee and Stoney Cooper. One of my prized souvenirs is a banjo head autographed by Roy Clark who, at the time, was a member of Wilma Lee and Stoney's backup band. I left the John Yanish show in April of 1957.
About a year before the family moved to New Jersey, RCA Victor records had opened up a record-pressing plant about ten miles from our place. Thinking that this might give me a back-door entrance into the recording business, I applied for a job there as soon as we had made our move, and I worked there as an inspector through the winter of 1956 - 1957. I may be one of the only people in Nashville who has actually participated in the manufacture of 78 RPM records.
In 1957 a western-style amusement park, called Wild West City, opened up in Stanhope, N.J. I left RCA Victor and worked at the park all through that first season. They made up a stage band consisting of people who worked there in other jobs, and I was part of it. I also drove the stagecoach and covered wagon, and was a stunt man. A grown man getting paid to play Cowboys and Indians all day; what a deal!
In 1958 I joined the Air Force and spent the next couple of years at Lackland Air Force Base in San Antonio, Texas, Sheppard Air Force Base in Wichita Falls, Texas, and McGuire Air Force Base in Wrightstown, New Jersey. At McGuire there was a sergeant who played the fiddle and had spent his younger days traveling around the midwest and southwest during the heyday of the great western-swing bands. We played together once in a while and in August, 1959 we appeared together on the early-morning "Farm Show" on WCAU-TV in Philadelphia as part of a recruiting drive. This is where my song "LET YOUR FIDDLE TELL THE STORY, SGT JOE" came from.
After I got out of the Air Force I spent the next several years playing in various bands in New Jersey, and made a few unsuccessful attempts at starting a band of my own. During this time I was featured on several live radio broadcasts from a club called "South Of The Border" over WDLC in Port Jervis, N.Y. The club actually straddled the border between New Jersey and New York, and there was a marker in the floor where you could stand with one foot in each state. I also appeared on "The Jerry White Folk Show" and "The Smokey Warren Show", both broadcast from Palisades Amusement Park over WJRZ, Hackensack, N.J., and "The Jack Bilby Show" on WHBI, in New York.
In those days a lot of major artists couldn't afford to carry their own band, and would work with whatever house band was playing wherever they were booked. Because of this, I've had the privilege of sharing the stage with such legends as Tex Ritter, Webb Pierce, Kenny Roberts, Elton Britt, Rosalie Allen, and Texas Jim Robertson.
During those years I also got my first introduction to the inner workings of recording studios, playing on Whitey Murphy's "Heart Of A Clown" and "The Rovin' Gambler" for Yale Records, and making an album of traditional cowboy songs with Texas Jim Robertson for release in Canada. Texas Jim and I also did a TV special on PJ-TV in Port Jervis, N.Y.
In 1961 I spent a few months working at the Guild guitar factory, in Hoboken, N.J. I did all the final set-up and tuning of the guitars before they got packed for shipment. I loved what I was doing but, unfortunately, it didn't pay as much as I needed to make, and I had no choice but to leave for a much less glamorous, but better-paying, job.
In 1970 the band I was working with broke up, and the bass player volunteered to stay with me if I wanted to make another attempt at starting a band of my own. This time it worked, and the band lasted 12 years. Over that time there were some personnel changes, naturally, but it was fairly stable, and I consider it to have been the highlight of my career, so far. I did a lot of promotion, and eventually we became one of the top three or four bands on the New Jersey circuit. It's strange; I never thought I was a success, because I never could make enough money from music to be able to quit 'the day job' but, in retrospect, I realize that we probably had as much success as it was possible to have in that place at that time. If nothing else, there are tons of great memories. I think we played virtually every major country music club in northern New Jersey, and also at the Plaza, Pierre, and Statler-Hilton Hotels in New York City, The Playboy Hotels in Great Gorge and Atlantic City, N.J., The Meadowlands Race Track, and the Flemington, N.J. fair. We also made a trip to Washington, D.C. for a weekend at the Shoreham-Americana Hotel, and to Bridgeport, Connecticut for a four-day run during "P.T. Barnum Days". We also shared billing on shows with such 'name' acts as Randy Barlow, Gene Watson, Karen Wheeler, Kenny Starr, Ruby Wright, and Doc Williams.
The band was called "Dave Saunders and The Confederates". I had chosen that name several years before, and used it for all of my bands, because I thought it sounded real 'country' and 'southern', and also because there seemed to be a lot of Civil War trinkets in souvenir stores that I thought I could use for promotional purposes.
In 1974 I decided to try recording, and made a 45 RPM single of a song I'd written for my six-year-old daughter named "Judy", backed with an up-tempo thing called "Goin' Down This Lonesome Road". Like most first-attempts it's best classified as 'a learning experience'. I still have a whole bunch of them.
In 1975 and 1976 "Dave Saunders and The Confederates" appeared several times on the WSUS-FM (Franklin, N.J.) "Town 'n' Country Club", and eventually became the official host band for the show. In January, 1976 we were featured on the "Country Hall Of Fame" on WBTB-TV, Newark, N.J. and on the "Video On The Go" telecast of the Parsippany, N.J. fair in September, 1978.
In May, 1976 "Dave Saunders and The Confederates" began what was to be a four-week run at Myke Varley's Spruce Run Inn in Glen Gardner, N.J. That four-week run lasted three years and eight months, until January of 1980. Myke understood the value of letting us leave to play special dates from time to time, and we had an excellent and mutually beneficial working relationship with him. For us, it was the best of both worlds; a steady job that let us take advantage of whatever special opportunities came our way. It was the key to a lot of our success.
In 1978 I opened a music studio in Parsippany, N.J. It was basically a big room with a P.A. system, a set of drums, a piano, and some amplifiers, that bands could rent to rehearse in. I also had some basic recording equipment for doing demos, and teachers for drums, guitar, and piano. It never made any money, but it gave me a great headquarters for running the band, and a great place for us to rehearse in.
In 1980 we added to our television credits with an appearance on "Panorama 80", the annual TV Cablethon run by the Lion Clubs International to raise funds for their efforts in behalf of the blind and visually impaired. The show was broadcast over a cable and satellite network that enabled it to be seen throughout the eastern United States.
1980 turned out to be a bad year. The band wasn't getting enough work, the studio wasn't making any money, and another, more subtle, force was at work. It's called 'time'. All of the members of the band were getting older, and the demands of the music business were in conflict with growing families and developing careers. I was the only one who was committed to a career in music; the others all had different priorities, and were just doing music for the fun of it.
The combined load of being a wife, mother, musician, and working a day job became too much for our female vocalist, and she finally left us, after being with us for about six years. As I searched for a replacement I came to the realization that this band wasn't just me and a backup group; we had truly become 'a band'. We had become such a tight, solid, cohesive group that simply replacing one person with another wouldn't work. I didn't believe that the audiences would accept us as anything but what we were.
The studio had never made a profit. It had always been supported by the income from the band, and that had been dropping seriously. Then I lost 'the day job' and the money that had supported the studio had to support the family instead. I found another job, but by that time I was too far in the hole to get out.
As I thought things over I decided that I was getting older while the audiences were getting younger, the music was changing and I wasn't changing with it, I hadn't become a star and wasn't likely to, and the whole thing was becoming too much work and not enough fun or money. I decided it was time to get out of the music business, and in early 1981 I broke up the band and closed the studio. Over the next two or three years I made a couple of half-hearted attempts to start a new band, but I had too much else on my mind and finally gave up completely.
Once you get show business into your blood, you'll never get it out again. In 1982 I started working as a computer programmer at the corporate headquarters of Columbia Pictures, which at the time was in New York. Each year they'd put on a company show. The company would rent a Broadway theater for one night, and hire a professional director and music director, who'd write a song-and-dance revue. Those of us who had any professional or semi-pro experience would do the feature spots, and any other employee who wanted to be in the show would become part of the chorus. We rehearsed a couple of times a week in the company cafeteria for about six weeks, and on the big day we went to the theater and put on two shows for all of the other employees and their families and guests. The show was videotaped, and everyone in it got a copy of the tape. I did the show in 1982 and 1983, so I can honestly say I've appeared on Broadway, in New York.
Columbia Pictures sent me to Hollywood on business several times, and in 1987 I was transferred there permanently. I checked out the music scene and decided there was no place there for me, and it didn't bother me. I had reconciled myself to the fact that my musical career was over. It had been fun, but it was over. I was making good money, and my life had entered a new phase.
Then, I was invited to a meeting of the local songwriter's club. They got together once a month to listen to each other's work and try to improve their own. Just to 'keep one oar in the water' I joined the club. At some of the meetings we had guest speakers who were active in the music business. One of them was an attorney who explained all about copyrights and royalties. Shortly afterward I discovered he was teaching a course about the music business, and that led to my discovering the extension program at UCLA. I learned more about the 'business' part of the music business during the next three years than I had learned in thirty years of playing the circuit in New Jersey. Pretty soon I was a member of every songwriter organization in Los Angeles except one. I also joined the California Country Music Association, and found myself at a lot of open mics and benefit shows, doing my own original material. It was a whole different world than the one I was accustomed to.
In 1989 I played a song of mine called '5 O'Clock Train' at a meeting of a songwriter's club, and one of the other members went ballistic over it. He gave me hell for never having done anything with it in the ten years since I'd written it, and told me that if I didn't do something with it soon I didn't deserve to ever have another good song. Such a reaction, combined with what I'd been learning about the 'business' end of the music business, made me start to think I could have another shot at a career in music, this time as a writer rather than as a performer. I also thought it would be nice to make at least one good record during my lifetime.
There were some members of the L.A. music scene who were making names for themselves as producers of demo and independent label projects. I checked them out, and decided that Will Ray would be the best one for what I wanted to do. I had no firm idea what I wanted to do with the finished product, or whether I should go beyond just recording that one song, but I wanted to do something. I met with Will to discuss the project, and the final result was an eight-song cassette album called "It's All In The Words".
The smartest thing I did on that project was simply to hire Will and then stay out of his way while he took care of everything. He arranged for the studio and the musicians, played all the guitar parts himself, and supervised the whole thing, so that all I did was sing the vocals and sign the checks to pay for everything. Sometimes his attention to detail drove me slightly nutty, but I realized that was the difference between a good project and a mediocre one, and Will gave me a really good one, and I'll always be grateful to him for it.
I found that completing this project seemed to earn me just a little more acceptance and respect in the music community than I'd had. The completion of your first serious recording project is something of a milestone in a career, and I'd passed it. I'd moved from the group of people who talk about what they'd do if they only had the chance to the group who have actually done something.
After I had the finished product I copied some of the songs off to separate tapes and started submitting them to publishers, producers, and managers, in the hope of getting some kind of deal, either for myself as an artist or for someone else to publish or record my songs. I didn't score with anything, but I learned a lot about the process, and I guess that's the most important thing.
One of the courses I took at UCLA was taught by Ken Kragen, a personal manager who has guided many careers to great success. He said that if you could make three related events happen in a short enough time span you could move a career up a level, and in 1991 I decided to try it. My career was at the lowest possible level, so I had nothing to lose. I decided my first 'event' was the completion of my cassette project. The annual fair and carnival was coming to our town, and for my second event I decided to take a booth in the exhibit tent, and put a band together and do a show on the stage. For my third event I'd videotape the show and broadcast it on the public-access channel of the local cable TV network. All of this would be accompanied by press releases to the local newspapers and, hopefully, would introduce me to the local audience, which would certainly put my career one level higher than where it was at the time.
I put together a really good-looking display for my exhibit booth. I had a couple of banners made up with my logo on them; one for the stage, the other for the booth. I had some T-shirts and baseball caps made up with my logo on them, and had some promotional material printed. I had a color photo taken, blew it up to about two feet, and had it framed. I gathered together some video footage I'd accumulated over the years and had it edited into a sequence that ran for about ten minutes, with nice looking transitions between the segments. Then I copied this sequence over and over again onto a two-hour videotape, so it would appear to be looping continuously. I also hired a local public relations agency to get me some press coverage, and hired a video crew to tape the show. When the fair opened up, I was ready.
Unfortunately, because of all of the other publicity concerning the fair, I don't think I got a single mention in the press. The video didn't work out the way I had hoped, either. The sound was bad, and we didn't get enough usable footage to make a 30-minute show, although I was able to salvage enough to make a short demo.
Although it didn't do a thing to move my career to a higher level, it was fun, and I have no regrets. I had the chance to use the booth display a couple of more times at music-industry events, and got a lot of nice compliments on it. It was another 'learning experience'.
I guess it was in 1991 that I made my first serious trip to Nashville. I'd been there to see the Grand Ole Opry in 1955, and had spent a day there during a vacation trip in 1964. I'd been there again in 1978 for an encounter with a fly-by-night producer/manager (which makes a great story all by itself that's too long to tell here), but had never really made an attempt to get inside the music business. Over the next three years I made five more trips to Nashville for various music industry events. It was a great education.
In 1992 I lost my day job. Because I'd been with the company for ten years I got a generous severance, and had a lot of money saved up. I decided it was time to change careers, and went into business for myself as an 'independent developer of interactive multimedia projects'. Sounds impressive, doesn't it? I won't bore you with the details, but the bottom line is that I lost just about everything I had, and then some. It took about five years, but I did it.
I had been a member of the Los Angeles chapter of the California Country Music Association for several years. It was a totally volunteer-driven organization; nobody got paid for anything. It was the kind of organization that rises and falls on the strengths and weaknesses of whoever you can get to work for free running it, and it had been run quite well during the previous couple of years, and was very active and strong. Right after I lost my job I was asked to be President of the Los Angeles chapter. I thought it would offer me a chance to get recognized by the inner circle of the Los Angeles music industry, and might lead to a good job, so I said yes. I got elected and held the job for the next two years.
We had an annual Awards Show and gave out plaques for the best this, that, and the other thing. We ran songwriter and open-mic nights, and artist showcases, and provided entertainment for a lot of benefits and charities. In 1993 I produced an eight-hour concert at the Los Angeles County Fair, featuring eight of our acts. I ran the sound system for a lot of shows. I published a real good-looking newsletter every two months. I also learned about the frustrations of running an all-volunteer organization, where you can't make demands on people, and can't fire anybody who doesn't do their job.
The man who had been the founder of the California Country Music Association (CCMA) had also built another organization called The Country Music Associations Of America (CMAA), which ran an annual talent contest where the award winners from all of the various state-level country music associations could compete for national-level awards. In 1992 he moved the contest from California to Las Vegas. Because they had both been started by the same person there was a certain amount of overlap between the CMAA and the CCMA, with the result that a lot of us were part of both organizations. Because of this, I was involved in running the CMAA event in Las Vegas in both 1992 and 1993, as showcase director and technical director.
It was all a lot of fun, but it was also a lot of work and expense, and I was busy going broke in the business of 'interactive multimedia production'. In 1994 my term as President ended and I quit the music business again. This time it was absolutely, positively final.
Yeah, right......
For three years I did stay totally away from the music business. I just disappeared completely and no one knew where I was or what I was doing. I hardly ever even picked up a guitar at home. I finished going broke and moved on to the next level, which is desperation. I tried to get back into my original profession and discovered that, during the five years I'd been away from it, the technology had changed and I'd become obsolete. With all my education and experience, I couldn't find a job. Things got real scary.
One of my daughters had gotten married a couple of years before, and she and her husband were living in Nashville. She told me the town was booming and I might find a job there. In June, 1997, I went and stayed with her for a few weeks and, sure enough, I found a job. It was at a much lower level than I was accustomed to, and a lot less money, but it was a real job with a real paycheck...every two weeks...what a concept! I found an apartment, sold the house in California, and moved my wife to Nashville.
I knew, of course, that I was finally living in Music City, the place where I'd always dreamed of being. But I also knew that my musical career had ended a long time ago, and was over. Absolutely. Positively. Completely. And I knew that, on the road of life, I had a lot more miles behind me than in front of me. I had no illusions about a new career in music.
But, as I said earlier, it gets into your blood......
If you're reading this outside of Nashville, you need to understand that songs are the lifeblood of the music industry, and most of them are pretty short-lived. That means the industry needs a constant supply of new songs, and that, in turn, means that in Nashville, songwriters are held in high-esteem and generally enjoy a high level of respect. Every night of the week, in clubs all over town, you can see dozens of songwriters taking their turns on stage showing off their stuff. These are called "Writers' Nights" and are one of the primary forms of live entertainment in Nashville.
While I was waiting for my wife to finish attending to the sale of the house in California, and join me in Nashville, I started going to these writers' nights, and it didn't take long to yield to the temptation to try out my stuff just to see how it would be accepted. I kind of expected to be laughed out of town for being one of those old guys who don't know when it's time to quit, but that didn't happen. Instead, I found that I was accepted with a degree of dignity and respect I'd never anticipated.
At most of the writers' nights you get to do three songs. I made a list of the fifteen or twenty songs that I'd written and did a different three each week. I wrote a couple of new ones and added them to the mix. After you've been on stage for as many years as I have you develop an ear for the applause; you can tell when it's really genuine, and when it's just polite. I started noticing that a lot of it was genuine, and I also started getting compliments from the other writers. You can also tell which compliments are genuine, and which are just polite. I was getting at lot of genuine ones. Nobody was demanding to publish or record my material, but I knew that I was being accepted and respected on a creative level.
There's something about the atmosphere in Nashville that stimulates your creativity like no other place does. I started writing more that I ever had before, and eventually I'd written enough that a certain style started to emerge from it. Back in the forties and fifties a lot of country songs were done in what was called the 'talking blues' style, where the lyric was spoken, rather than sung, over a rhythmic background. There were also a lot of 'recitations', which were stories or poems recited over appropriate music. Some of them were humorous novelties, some were tender and spiritual, and some were just plain morbid, but they all reached your soul on one level or another.
I found that I was writing a lot of 'story' songs filled with nostalgia, and little touches of humor, pathos, and home-spun philosophy. A lot of them are what I call 'talking' songs as opposed to 'singing' songs. And I was hearing a lot of genuine applause.
One of the things that had always frustrated me when I was playing the circuit in New Jersey was that I never was able to find what I thought was the 'definitive Dave Saunders style'. Everything I did involved learning the hit songs from the radio and then playing them at bars and parties. Everything I did was sort of a copy of someone else; I never found a style of my own, and without that I could never rise to the level of success I wanted. That was one of the reasons why I finally quit the business.
Now I was becoming identified with a style that seemed to be uniquely mine, and I started to think I could have a performing career again.
Age was no longer an issue, either. It seems like most major country music stars are either under 30 years old, and their primary audience is their own age group, or they're well-past their primes and have become 'legends' who haven't recorded a new song since Hector was a pup. I left the age of thirty lying in the dust a long time ago, without becoming a star, and I don't have the credentials to be a 'legend'. But there's an audience out there that's been growing old for as long as I have and, like me, they've reached the point where the kids are out on their own, the mortgage and the college bills are pretty well paid off, and Mom and Pop have a little time to themselves, are looking for some entertainment, and have a lot of the same memories that I have, of a world that was a little different from the one we passed on to our kids.
In 1999, at an age when most men are putting the finishing touches on their retirement plans, I decided to make my second album and start a new career as a singer/songwriter.
Denny Martin had been a member of that first songwriting club I'd joined in California, and had moved to Nashville sometime during the three years when I'd been in hibernation. When I got to Nashville I'd discovered that he was running a first class recording studio. I talked to him about my ideas for this project, and we proceeded to make an album. This was a pay-as-you-go project, and it took three years to finish, but, thanks to Denny's patience and skill, I think we've found that elusive, definitive 'Dave Saunders style'.
This is being written in March, 2002. Where does it go from here? Who knows? The next step is to put a band together and try to take the show out of town, where the real audience is, and let them tell me whether or not I'm going to have another career as a performer. I've got a box full of CDs that need to be sold. I've just been a guest on my friend Don McNatt's TV show. That'll help. I've got a booking lined up in Maryland three months from now; I figure it'll take me two days to get there and two more to get back home, and the trip will cost three times as much as I'm going to be paid. I don't have a van or trailer anymore to carry the band and the equipment.
Welcome back to the music business, Dave......
---
Well, that's it...sixty-four years' worth of memories in just a few short sentences...and a couple of long ones...with a few commas, apostrophes, hiccups and belches thrown in for effect.
Like I said up at the top, this wasn't intended to be this long. It just...well...it kinda got a little outta hand...and...well, thanks for stickin' around all the way to the end...but let's hope this is not really the end......